Celebrate your children's birthdays with an online
Virtual Magic Shows!!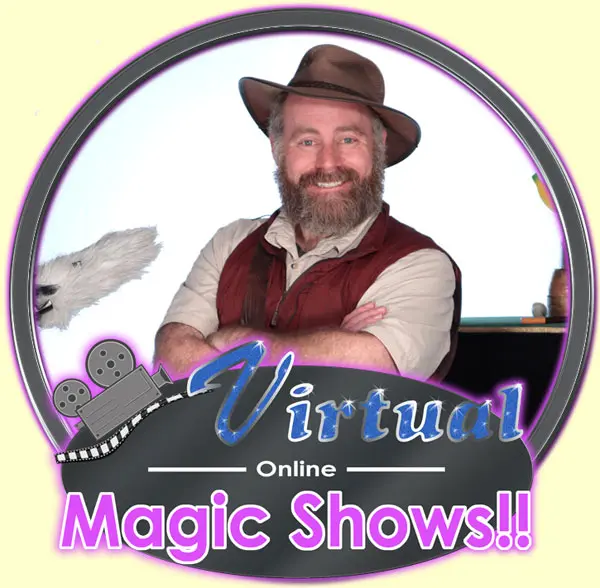 About the Virtual Magic Shows
Virtual Magic Shows are exactly how they sounds. I, California Joe, will perform a LIVE magic show virtually over Zoom! And the best part is that your child doesn't have to watch it alone. Their friends and family members can join in as well!
To make this the best experience possible for you and your child, I have invested in top of the line audio and video equipment to bring you clear images and sound. If you are going to share the invitation to the Zoom Meeting with friends and family, we want to make sure everythings looks and sounds spectacular!
Your child will still be able to PARTICIPATE in the show! Spotlighting and pinning videos will allow me to interact directly with your birthday child through the computer screen.
The magic show itself will be like a standard magic show, except it will be, well, virtual! You won't need to clear a space, clean the floor, or even change out of your pajamas!
About Using Zoom
Many parents, like you, are familiar with the Zoom Meeting platform. It is used for schools, online learning, businesses, and government. Zoom provides security messages to keep shows private and safe. All shows will be password protected!
Zoom does not require you to download an app unless you are joining a meeting from your phone. You do not need an account with them.
After you book your show, you will receive a portal page in your inbox that will contain the invoice and instructions on how to join the meeting, along with rules for the show.
To maintain excellent quality, I am limiting Virtual Magic Shows to 20 devices. That doesn't mean only 20 kids can watch the show. Siblings and family members can all watch from the same device.
Even though I pay for the pro version of Zoom, connectivity issues can accur when more than 20 devices are logged on at once if the device logging in does not have adequate bandwidth or mobile data.
Not to worry, I will provide all of the information necessary to have a good connection and a great virtual experience in the PDF down that I will send to you upon booking.
Pricing For Virutal Magic Shows
30-Minute Virtual Magic Show = $200
45-Minute Virtual Magic Show = $225
Add 15-Minute Magic Lesson + $25
Add Recording of the Virtual Magic Show
via unlisted YouTube Link that will stay
live for one month +$50
No promotional pricing available at this time.
Note About Pricing
My normal rate for a live, in person birthday party magic show, starts at $300. The prices listed below are for the Virtual Magic Show only. I brought the starting price down, not only because the show is online and not in person, but because I understand that times are tough right now and we all need to work together. 
"Best magic show I've seen, hands down…I could not recommend him more…fabulous job…Thank you, thank you, thank you!"