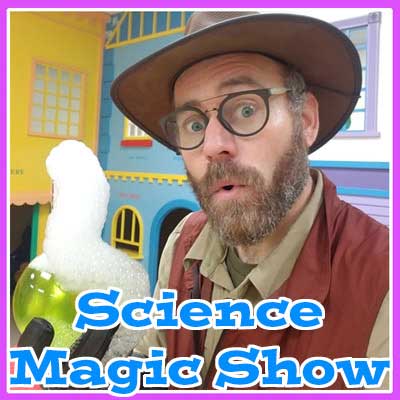 The California Joe Science Magic Show
is a must for any child who loves both magic and science! 
SPOILER ALERT!!
  Some magic
tricks will be revealed
and taught to the kids during the show!  This is another
hands-on experience
where the kids get to help with the science experiments and magic tricks!  I will even teach how some of the tricks work as they pertain to science!
This show is full of things kids love!  They will get to participate in experiments with dry-ice, electricity, optical illusions, and more!
If you choose a package with balloons, I'll drive my Balloon Menu!  I will make all sorts of fun balloon sculptures for the kids.  The complexity of the balloon designs will depend on the allotted time and number of kids.
Please click the link below to review the packages and prices!  The prices listed pertain to all shows.
I was impressed by how well he was able to manage all the children during his performance. His performance was very interactive and engaged all of our children ages 2-6.  I enjoyed the safari theme and how he linked each magic trick with a different part of the world.